Environmental Encroachment - EE Marching Band - Chicago
Chicago performance art group Environmental Encroachment (EE) uses a marching band, costumes and theatrics to create unique entertainment environments for any event.

Upcoming Events: (updated December 16, 2014)
NEW - Four Original EE Songs on our EP.
Check it out on bandcamp. 99 cents a song.
Support Don Rupert.
NEW YEAR'S EVE: December 31st, 2014 - January 1st, 2015
Dinner and Count-down.
Event at Acadia Restaurant, South Loop, Chicago.
Working Bikes Co-op Party
Saturday, January 10, 2015
2434 South Western Avenue, Chicago, IL 60608
(312) 421-5048
Details TBA

HONK OZ in Wollongong, Australia
January 7-10, 2015
An EE faction will be going to Australia~!
Check out EE on the schedule and read about HONK OZ;
The first International HONK.

Sousaphenia 4
Saturday, February 7, 2015
Chicago's annual week-end dedicated to Sousaphones, not Sousa.
Martyrs'
3855 North Lincoln
3 Great Bands
8 Dollars, 21 +
Doors at 8, Music starts at 9
Tickets and Info:
http://www.martyrslive.com/
CHIDITAROD X
March 7, 2015
Chicago's 500 person shopping cart race for charity.
Register today, They always run out of room.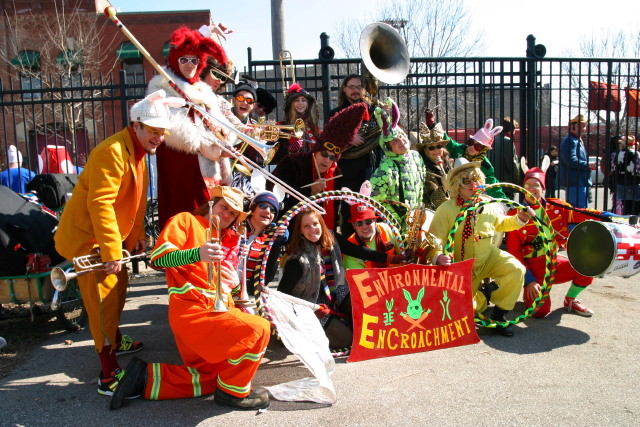 Check the website for Details on the Race, Press, and attending.
Concert for Kids Series
Sunday, March 22, 2015
Epic~!
Beat Kitchen
2100 Belmont
11 AM to 2 PM
ALL Ages, 6 Dollars
Full Bar open.
HONK TEXAS Tour
March 26-30, 2015
Austin's Best Music Festival
MUSIC
Link to Downloads thru Band Camp
or
Link to physical disc purchases thru CDBaby
VIDEO

'Recording of Bunny XII' by Blake B. + Alyce H (YouTube)
A fun video! from our sessions at Wall to Wall Recording.
--------------------------------
"Ya'll are Funky!" Bootsy Collins
"I know they have a great version of Amazing Grace" Joan Baez
"EE, veterans of street action and indomitable spirits" Mark Messing
"You make me want to dance with my six year-old." Alex
"Inimitable." Hungry March Band
"EE has a storied NYC underground history" geminiandscorpio.com
-------------------------------------------------------------------------------------------
Environmental Encroachment (EE)
Copyright ©1996-2014
encroach((at))mindspring(((dot)))com