Honk Fest West
EE @ honkfestwest
With street bands from all over the U.S.
Seattle, WA, April 10-12, 2009
EE on a major tour over 2000 miles away.....
HONK WEST: Seattle, April 10-12, 2009

DESCRIPTION: Honk!Fest West, a Vera Sponsored Project, returns to Seattle this year April 10 -12. Honk!Fest West, the northwest counterpart to the 3 day brass band festival founded in Somerville, MA, is a celebration of the music of street bands from around the world. This year over 15 bands from around the continent will join in the festivities, including Stanford University's nationally-acclaimed scatter band. Honk!Fest West begins Friday, April 10th in Ballard, venues in Georgetown Saturday evening, a brunch potluck at Gasworks Park Sunday afternoon, and culminates in an all-band line up at The Vera Project.
The event will also feature workshops throughout the weekend with members of Seattle's vibrant musical community. The Seattle Seahawks Blue Thunder Drumline and the Seattle Sounders FC Sound Wave Band will also be performing.
A full list of bands, line-up and venue information can be found at www.honkfestwest.com
lots of images on facebook, flickr, and stuff on youtube....
http://www.megaupload.com/?d=JU73J39E
HONK West from Adrian from Carnivale Band
---
http://www.kodakgallery.com/ShareLanding.action?c=cczaoyg.8c1kl41g&x=0&y=lfb28s&localeid=en_US
from Jimmy V.
--dan:
www.merlodan.com/ee_honkwest09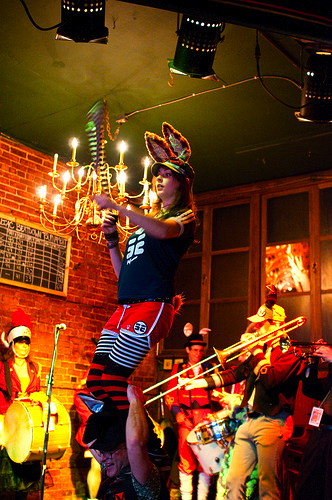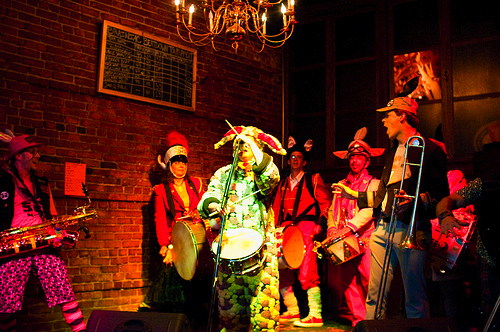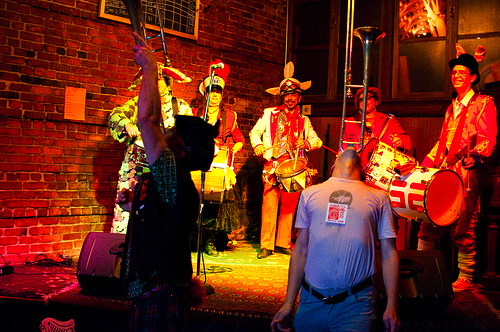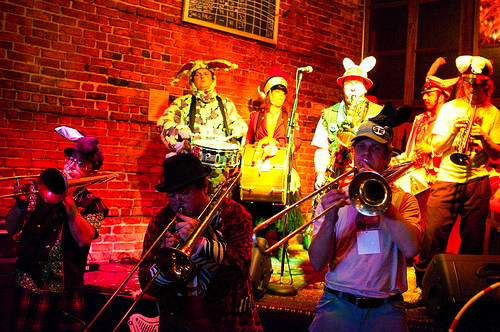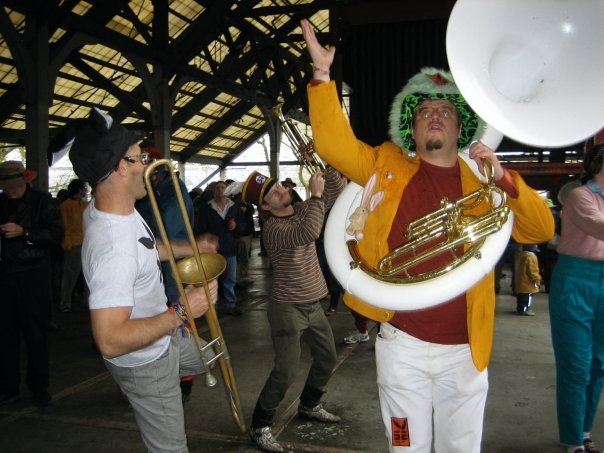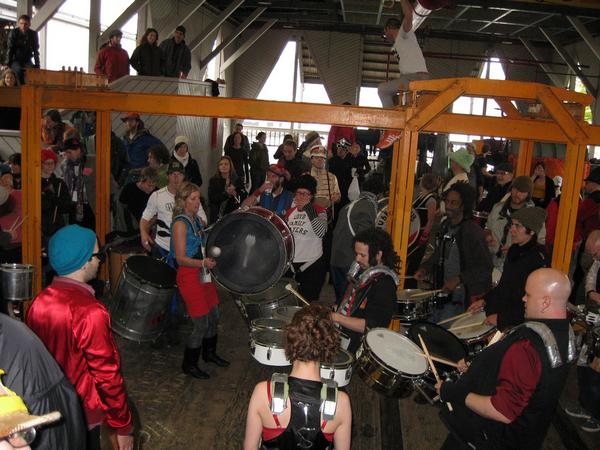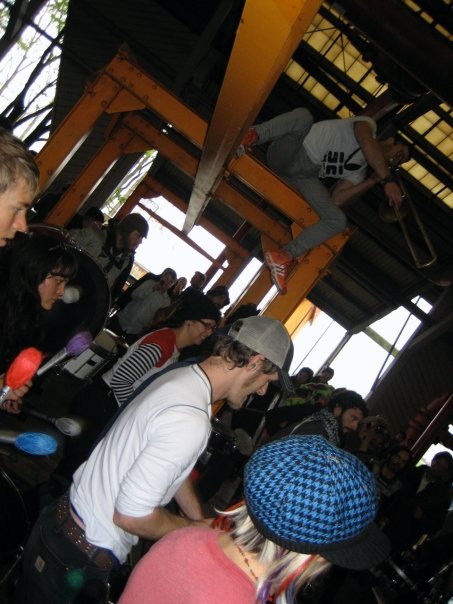 mike smith on girder with samba jammers at HONK, photo drummm.com
------------------------------------
from www.honkfestwest.com

Band Participants for Honk! Fest West 1009

Carnival Band (Vancouver)
Hub Hub Club (Sebastapol, CA)
Environmental Encroachment (Chicago)
March Fourth (Portland)
Samba Ja (Eugene)
Titanium Sporkestra (Seattle)
Yellow Hat Band (Seattle)
VamoLa! (Seattle)
Blue Thunder (Seattle)
Raging Grannies (Seattle)
Olympia Free Radicals (Olympia)
Loyd Family Players (Oakland/San Francisco)
Garfield High School Drum Line
and more!

To make Honk! Fest West soar, we need your help!

1. Spread the word to everyone you know.
Forward this email! Tell friends and neighbors!

2. Volunteer for the event!
Help provide HONK! Hospitality by helping out with the care and feeding of the musicians.

3. Donate $$$
Honk! Fest West is a project of the Fremont Arts Council, a 501(c)(3) corporation, so all donations are fully tax deductible.

To send a check, make it payable to the Fremont Arts Council and send it to Honk! Fest West! c/o Gary Luke
3917 1st Ave NE, Seattle, WA 98103

To use a credit card, please go to www.honkfestwest.com, click on Sponsors and contribute via our PAYPAL account.

More than anything, we want people to come and enjoy the scene---the music, the spectacle, the good energy. The time feels right to move the conversation from fear and fundamentalism to hope and humanity---let's get that started on the streets of Seattle at Honk! Fest West.

Hope to see you there!

Yours truly,
Honk! Fest West Organizing Committe

Environmental Encroachment (EE)
Copyright ©1996-2009
2137 West Chicago, APT CH, Chicago IL, 60622