EE - official marching band
The 20th Annual Houston Art Car Parade
May 11-13 2007
EE as the official marching band for
The 20th Annual Houston Art Car Parade
May 11-13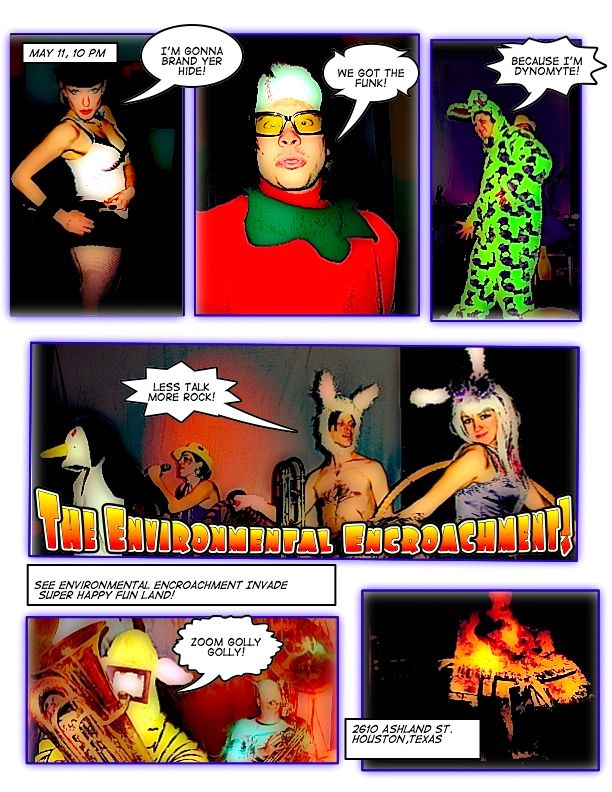 wEE want the Funk! ...Gotta have.... Gonna Get.....
sEE you at the Art Car Parade in Houston, May 11-12.
EE's gonna be hangin with the Grand Wizard of the FUNK.
http://www.orangeshow.org/artcar.html
Friday through Sunday, May 11-13, 2007
Friday May, 11 ---Shop Talk 6 - 9 pm
Art Car film footage from unexpected sources and presentations from Art Car Luminaries.
EE will be parading the grounds, loaded with the over 250 art cars and vehicles.
Friday, May 11, doors at 9
Super Happy Fun Land!
2610 Ashland Street (@ W27th Street in the Heights)
Houston TX 77008
(713)880-2100
*Pontiak http://www.myspace.com/pontiak
*The Neptones
*ee plays at 11!
****Saturday, May 12****Art CARTailgater! 9 am Start
Watch the show before the show - Allen Parkway at Taft - with plenty of music, beverages, breakfast treats during the parade line up.
VIPit Party opens at 11 am with Environmental Encroachment Marching Band
Watch the parade, eat tasty food, sip cold beverages and sit in the shade covered bleachers. The official VIPit Party of Art Car Weekend offers the absolute best view of the Art Car Parade. Tickets are $125 per person. Art Car Angel packages start at $1,250. Ticket sales support the presentation of the world's oldest and largest Art Car Parade.
20th Annual Art Car Parade Rolls at 1 pm!
Parade starts at Taft, heads toward downtown on Allen Parkway, loops around the Heritage Society at Bagby and comes back the other way. Parking in downtown lots and wherever you can find it. View 250 embellished, augmented and jaw-dropping vehicles in the world's largest and oldest Art Car Parade!
EE will be in the first car, the Orange Show's historic "Fruitmobile", behind on a flat-bed trailer.
****Sunday, May 13****Art Car Awards Ceremony at the Orange Show Monument 11 am - 3 pm
Cash prizes totaling $10,000 are awarded in a dozen categories at the Orange Show. Art Car artistists, neighbors, adventure seekers, and families gather for a fun and festive block party.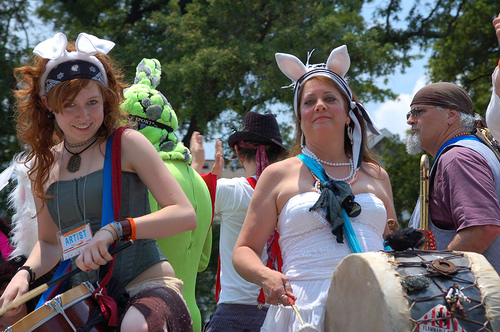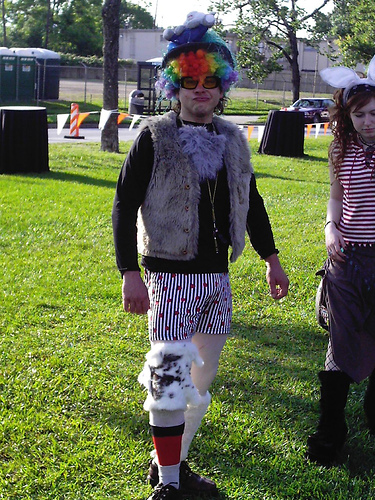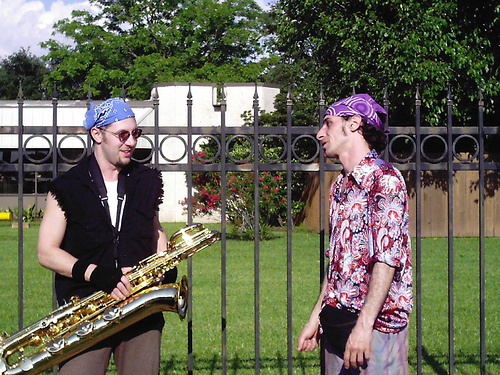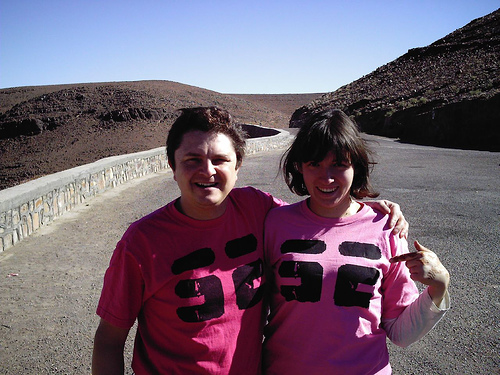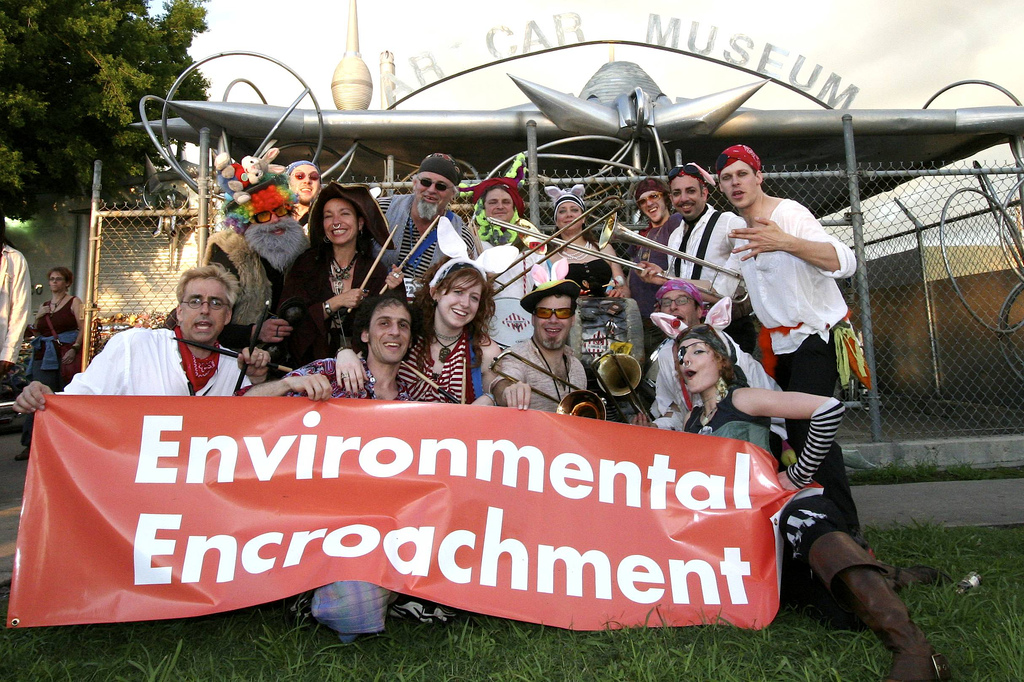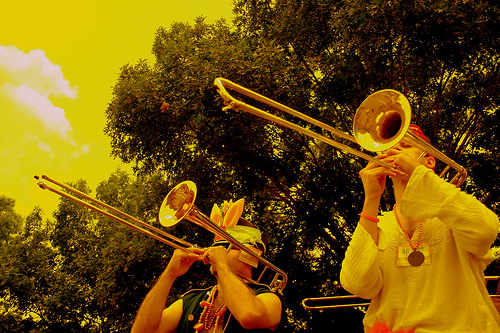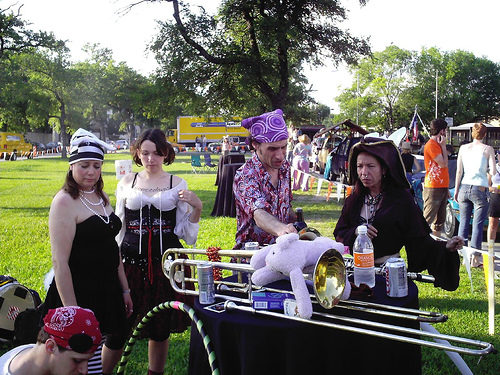 photos courtesy of mr. petey
More Photo Links from Houston Art Car Parade: May 2007:
http://www.youtube.com/watch?v=jOvAQCAG3xA%20
We're second in parade; (very beginning of movie)
http://www.lortie.net/photos/5_17_2007_Houston/
from our trombonist Bret's site
http://www.houstonist.com/archives/2007/05/14/houstonist_flic_277.php
http://picasaweb.google.com/ashj1981/HoustonArtCarParade2007
http://www.flickr.com/photos/eschipul/496082767/
http://www.flickr.com/photos/deneyterrio/495197263/
Houston Art Car Parade Video Clip, May 2007 - YouTube
http://www.youtube.com/watch?v=MnXR5Baq0X8
Environmental Encroachment (EE)
Copyright ©1996-2008
2137 West Chicago, APT CH, Chicago IL, 60622