50 Year Anniversary ACKNOWLEDGEMENT and HOMAGE to BREAD AND PUPPET THEATER
from Environmental Encroachment EE), 2013, Chicago

In Response to:
Fifty Years Bread and Puppet: A Symposium at Boston College September 14, 2013

Environmental Encroachment, or EE, started as an art group devoted to guerilla-style adult playground installations in 1995. Our goals were interactive performance, play, costumery, environmentally encroaching, and the experience based on your involvement, open to spontaneous additions that could develop an event, set in our urban environment of Chicago.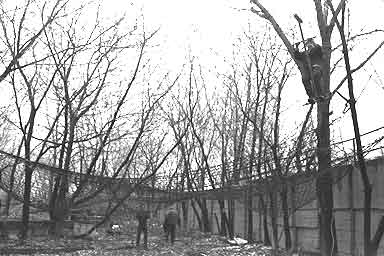 Zipline, Swing and Net Installation, 1996

'EE' shows had come to include shadow, projection, back-pack, and other forms of puppetry. Performances included parades, and stage shows with a mix of puppetry and various theater with EE's live music.
In 1999, EE was invited to the first Black Sheep Puppet Festival in Pittsburgh. At Black Sheep, EE was introduced to a national puppet community and first met artists from Bread and Puppet Theater.

This back-pack costume is 13 feet tall, with a paper mache head, AND has a live trombonist-operator inside.
Black Sheep Puppet Festival, 1999
EE continued to the Black Sheep Festival for another 3 years, and continued our puppetry. We were in the midst of a crash course in Living Radical Puppet History. Bread and Puppet's legacy, community, everything, was fascinating and inspiring! We still did not realize how broad their tentacles were, and how many artists they have influenced.
In Summer, 2001, EE was invited to perform at a festival hosted in our own city called PUPPETROPOLIS, which brought many puppeteers from around the world. Blair Thomas was the event organizer. We learned more of the Bread and Puppet legacy by meeting esteemed B+P alumni, John Bell and Trudi Cohen, attending with Great Small Works, their own puppet theater company based near Boston.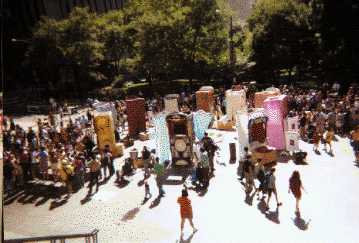 The 10 puppet booths at Puppetropolis, Chicago
PUPPETROPOLIS brought even more puppetry artists to our attention. John Bell gave a lecture at the Art Institute of Chicago, where he spoke of his experiences with Bread and Puppet, and puppetry contributions to Art History.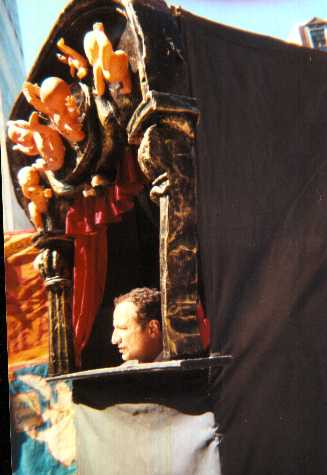 Paul Zaloom at Puppetropolis, Chicago
EE soon befriended and collaborated with former Bread and Puppet artists living in Chicago, helping to germinate a flowering puppetry scene. Children's workshops became a strong niche for artist opportunity, and very fulfilling.
"Hey! I have been working with you and your fellow coworkers, at John Garvy School. We are working on the Paul Bunyun!! Thank you so much for taking your time out to help us with it. You guys have been like the only people that have gotten me to really have fun with art, and I am hoping that when I am older I will be able to have a job like you because you guys are real good at it, and it seems like you guys have a lot of fun. I have been doing a lot of artwork lately which I normally don't do and you guys are great teachers, and I wish you guys weren't leaving because I wish I could learn more from you! Thanks for helping us out, it means a lot to me, and I am never going to forget anything you guys taught me because you are the only people that there are to thanks for me finding my new talent. I love you all and I wish you guys weren't leaving because you guys are so awesome and I am planning on going to one of your plays or whatever you call them to see you guys!!!!"
Love always, Jenny Galiano , August 2002
(Author's note: The play featured a new script where Paul and Babe help to Save The Trees~!)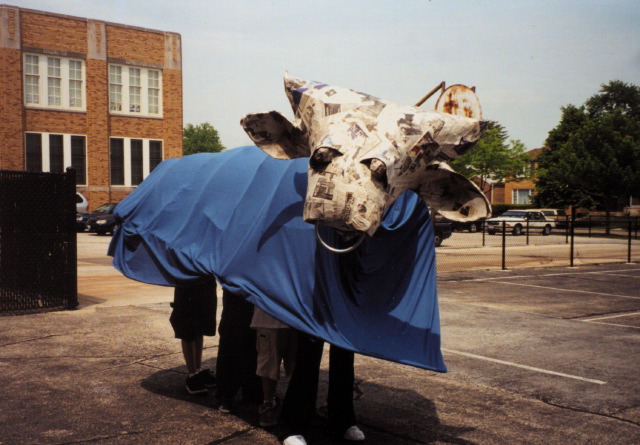 Babe, 2002, John K. Garvey School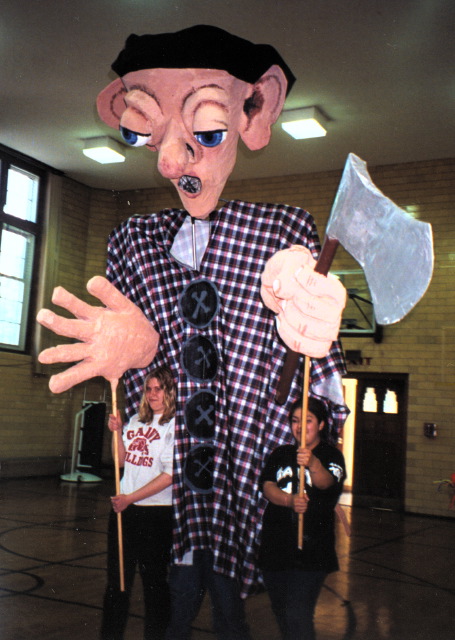 Paul, 2002, John K. Garvey School

---------
EE's puppetry division eventually moved on, as the group focus became our marching band. The EE Marching Band was hot!
This led us to be invited to the HONK festival, in Somerville Massachusetts, in 2006. HONK! festival was started by a community-based band called Second Line Social Aid and Pleasure Society, which had members of course from Bread and Puppet Theater. (Hello again John Bell and Trudi Cohen). In fact, the two groups were common collaborators.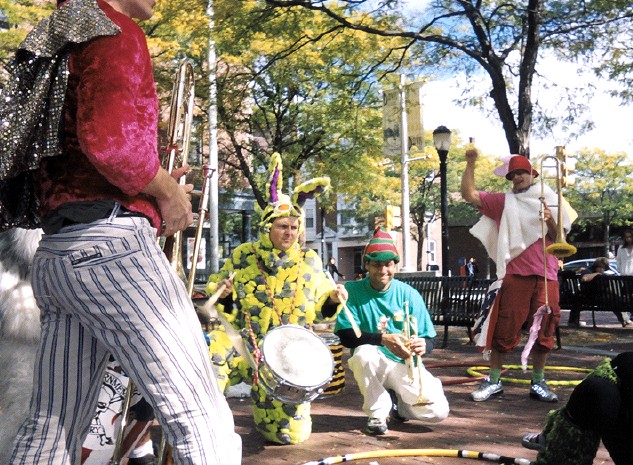 EE at the first HONK! Festival, Davis Square, 2006.
I was excited to see that BREAD and PUPPET were performing there, and John Bell was organizing the parade element on Saturday. I was able to see some great large scale puppets from many different groups. I was also delighted to find out Bread and Puppet had their own multi-generational brass band as well! They were absolutely magical.
Bread and Puppet's presence in the HONK! parade gave it artistic legitimacy and back-bone! They included brilliant versions of how to display questions of social justice, how to participate, create mobile spectacle, as well as bring the funk! It is always an honor to participate with them at HONK.

EE in the HONK! Parade 2012, Davis Square to Harvard Square
EE, Bread and Puppet, Second Line Social Aid and Pleasure Society (SLAPS), and many bands have been at HONK! since its inception in 2006. The HONK! concept has spread across the country.
HONK! itself certainly tips its hat to the ground-breaking work and methods of Bread and Puppet Theater.

All-band Funerary Procession at HONK! West, Seattle Center, 2012

----
I still had to see an official Bread and Puppet Theater show, in a theater. I happened to be in New York City in 2010 when Bread and Puppet Theater was in town for their annual 2-week residency at the Theater for the New City. I had talked to friends from the Bread and Puppet Band that told me I could participate and sit in with the band for their shows and sidewalk pre-shows, if I came to the practices. I was excited to play some music in NYC with them and see the show, and many groups are not 'open' (like EE) to possibly include fresh guests.
The pre-shows had the band outside drawing attention, and Peter would come out and dance. At this particular event, the door person was wondering if he should let Peter in our not. It wasn't quite Santa-con on the LES yet either.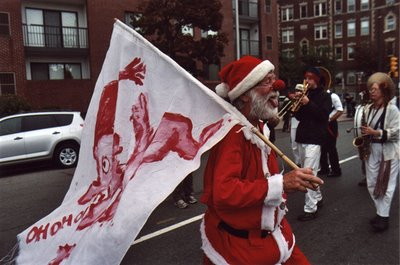 The Bread and Puppet Show was an intense and dark show about Guantanamo. I was now finding myself not just playing some tunes, but taking movement direction center stage, from Peter Schumann himself! Everyone was participating on multiple levels.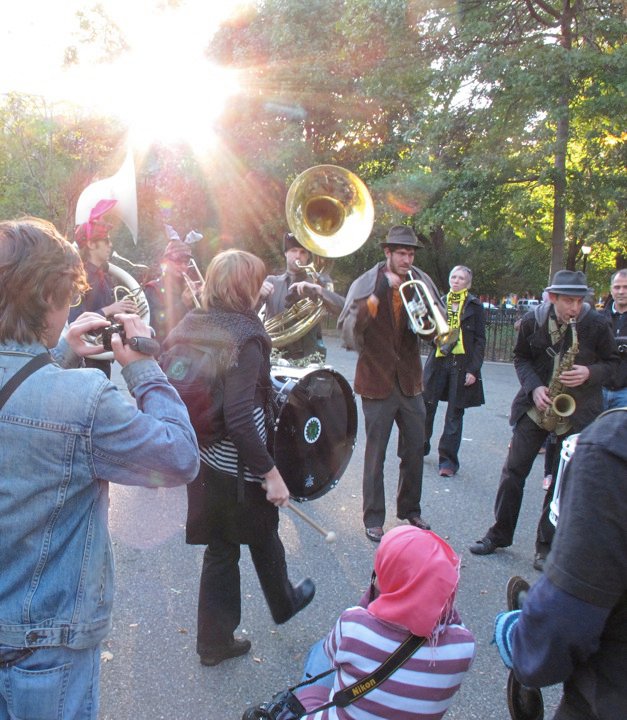 HONK! band members from various ensembles, including EE, B+P, HMB, RMO, and Veveritse, participate in a memorial march and tour in the remembrance of Michael Shankar, East Village, NYC, 2010
The "Circus" show was put on for all-ages as week-end matinees. Where as the adult nightly show was again, dark and thematic throughout, the "Circus" show was in direct contrast, with a series of short skits and clever songs. Then they would move on to a possibly completely different idea with each skit. I very much enjoy when groups use of language and concepts, with both power and humor, and double meanings for the adults to chuckle.
Bread and Puppet has a repeater of in-house, classic skits, with some very cutting edge performance, and they included the KIDS that had come to volunteer. Bread and Puppet's 'Circus' shows, in a word, brilliant. I help to orchestrate shows for EE and I can surely say I look up to B+P and am not afraid to appropriate their effective methods.

EE, Burning Man Festival, 2007, Billion Bunny March
Now I was meeting the cast, the band, and nightly members of a huge following. I was also amazed all the people who came to volunteer, or just to view the shows, that had spent time at Bread and Puppet, or at least had gone their as a child. These people were like family, and were so happy to participate and contribute. The community is obviously very special.
EE had met and collaborated with Bread and Puppet artists in Pittsburgh, Chicago, HONK! Festival in Somerville, and New York City's Lower East Side. From EE's early years involving puppetry, to its ongoing pageants, spectacles, and development of our own community;
Environmental Encroachment pays immense tribute to BREAD AND PUPPET THEATER.

The list of influences is immense, and covers methods, materials, and many concepts:
Spectacle
Humor
Theater How-to's, and WHY's.
Providing and teaching and encouraging acoustic, mobile music for community.
Good causes, Justice.

2005 at the NeighborFood Festival, Rogers Park, Chicago 2004.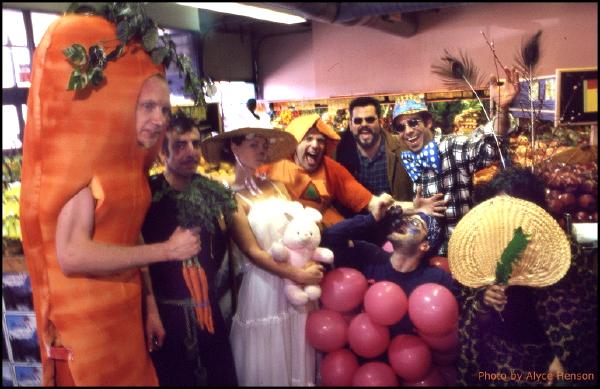 EE at Earth Day, People's Market, Evanston, IL, 2003
Guerilla style performance, not for the "galleries".
Puppetry, large scale, parade arts, circus-style revival, costumery, choreography, antics, pageantry.

EE at the Haymarket Riot Re-enactment, Chicago, 2012
Political information, "protest" support, parades, anti-war marching band.
Interaction.

EE participating in march during HONK New York, 2009
Establishing a legacy that includes multi-generational performers and an alumni network that can contribute everywhere!
A self-sustaining art community.
Cheap art, recycled materials, like the creative re-use of cardboard!
Doing clever shows for children and parents.

EE at Family Fun Fest, Chicago, 2013, Headlining The Kids' Stage
Delivering profound statements successfully through art and theater.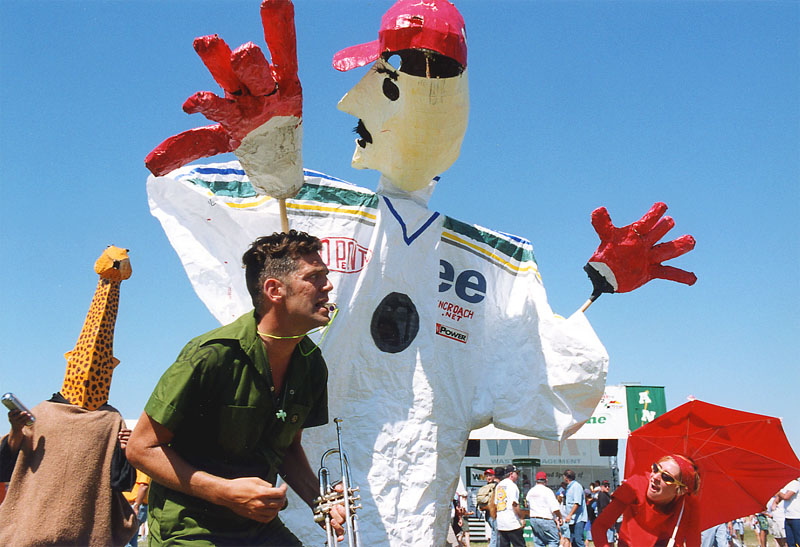 EE on parade at NASCAR in 2002 with a Dale Earnhardt effigy puppet, and a giraffe head puppet for the pre-race parade.
---And the influences are still growing, fomenting, forming even--
Environmental Encroachment and the performance community are very grateful for the art, inspirations and the pathways Bread and Puppet Theater has created. Thank You to Peter and Elka Schumann, and All of the Bread and Puppet Theater.

---------------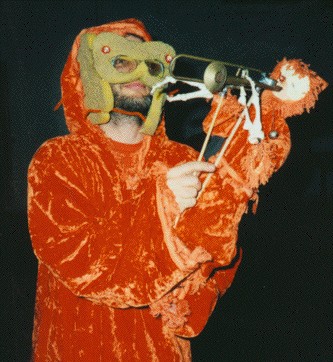 The Author, Mike Smith, at the Black Sheep Puppet Festival, 2001.